NEWS: LAST Last Chance Sale! The shopping part of this website will be closing. Laundry Tips and Marghab Identification pages will continue to be available as a resource along with my blog.
Now is your final chance to save 50% and stock up on napkins, tablecloths, sheets and any other beautiful old things that may interest you from my website. If you need gorgeous heirloom textiles for your Thanksgiving, Christmas, Channukah or New Years entertaining, please order soon! I will not be shipping between 21-29 November. Any orders placed at that time will ship when I return.
TERMS: $35 minimum order. A red sale price is the final price of some items; everything else is 50% off. I can't figure out a way to write computer code to make the items show up on your bill as 50% off so I will apply the 50% discount on my end. BUT PLEASE NOTE THAT I MAY NEED TO ADJUST SHIPPING COSTS ONCE I WEIGH YOUR PACKAGE (especially international buyers): I WILL CHARGE YOU EXACT AMOUNT THAT I MUST PAY.
Also NOTE: if an item is scheduled to be offered on One Kings Lane, it will not be available.
Farewell to my Linen Land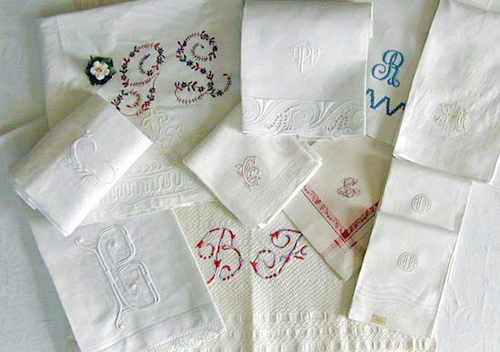 To my cherished customers: Thank you for sharing my linen obsession with me for nearly 18 years. Don't forget to use and enjoy your wonderful textiles. I'll be using mine.
.