Living with Antique Textiles
Living with Antique Linens
living with our favorite things
Many antique linens are used or displayed similarly to the way they were intended to be used in times gone by: sheets are being used as sheets, tablecloths as tablecloths, towels as towels and curtains as curtains.
No mystery there! But, there are countless other ways in which they are used.
why people use antique linens
Some of the best items made today can not compare to the phenomenal quality of antique ones. The incomparable quality and luxury of antique linens also would not be remotely affordable today.
Items were made by hand by artisans who specialized in their creation. Seamstresses, weavers and embroiderers were trades that produced master craftspeople.
Antique linens are historically interesting. Women used to grow their own flax crop, harvest it, process it, spin it and weave it into the cloth that their families used. They commemorated events both public (coronations, centennials, world's fairs) and personal (births, marriages, friendships). A bride's trousseau furnished all the household linens that she anticipated using for the rest of her life and sometimes was part of her dowry.
Antique linens are "green." Reuse is always a greener practice than buying new.
Antique linens connect us to our past and give us a sense of history.
Antique linens used pure fibers made without harsh chemicals. (even chlorine bleach is a relative newcomer)
Any chemical processes that were used to produce them have dissapated. People with allergies seek them.
The tradition of "waste not, want not" meant that items were repaired, remade and re-fashioned in order to reuse them. Clothing was remade to acommodate the latest fashions or as "hand-me-downs" for another person. Worn sheets, clothing and tablecloths were cut down to become napkins, pillowcases or towels. Smaller sections became quilt squares, patches and cleaning rags. Nothing was wasted.
how people use antique linens Antique linens are used in a tremendous number of ways:
Sewing fans use them as "raw material" in upholstery, drapery, clothing, bedding
Restorers use them for study or as replacement pieces for worn items
Lacemakers and Lace collectors use them for study or for reproduction or display
Museums acquire, preserve and display and teach with their collections
House Museums acquire, preserve and display and teach with their collections
Filmmakers/set decorators (both TV and movies) use them in their sets
Theaters use them in sets and costumes
Doll makers use them as trim and fabric in doll clothing
Historians use them for study, preservation and display
Educators use them for study, preservation and display
Artists use them for study, inspiration, as part of their work or to make paper
Fabric Houses, Fashion Designers reproduce them or their designs
Collectors use them as object of study, to display, to preserve, to cherish or just to hoard!
Decorators recommend them to their clients.
look at linens as fabulous fabrics
Antique linens make wonderful "raw material." Substitute them for new fabric in your projects. Transform them into whatever other things you were planning to make. If sewing is not your forté, you can use or display them without having to sew. Think: glue gun, safety pins, thumb tacks, ribbons and pushpins. Because many antique items are one-of-a-kind, no one else will have anything like it!
lovely transformations
One of the first things that come to mind when I think of other uses for antique and vintage textiles is to use them as window treatments and pillows. Why? Because they are often the right shapes and sizes, sometimes transform with very little work and becasue I happen to adore window treatments and pillows! And, we all have windows! This is my impulse; feel free to explore your own creative uses!
Antique sheets can be used as curtains, bedcovers, throws, hanging displays, screen covers, room dividers, shower curtains or used as upholstery fabric for chairs or headboards. Tablecloths can be used as bedcovers or draperies, shower curtains or as fabric, too. Anything that requires a nice big expanse of fabric. Damaged lace tablecloths are particularly good as sheer curtains; not only do they look lacy and pretty, but the flaws can be hidden in the folds. Items that are worn or stained can be cut apart to be made into smaller items: pillows, sachets, lampshades, chair back covers, runners and even clothing!
A particularly inventive use is to use a gorgeous antique tablecloth to cover the "Chuppa", a wedding canopy used during a Jewish wedding ceremony. After the wedding, the tablecloth becomes a memorable keepsake.
An item that used to be common but is not not very popular, is a "layover" style pillow sham. These single layer pieces of fabric were simply placed over the pillows to conceal them. (I think that pillows were laid flat then, with the layer of fabric over them, rather than being propped up, as we like them today.) They come in sizes that cover a single pillow or much longer to span two or more pillows on a larger bed. The singles make lovely teacloths, throws, chair backs and simple curtains or shades across a single window. The double layover shams, which can be very long, make wonderful window valances, often without much effort. (with no effort, if you use thumbtacks or pushpins)
Runners also transform easily into shades, cafe curtains, valances and smaller items. Antimacassars, alone or in sets, single or layered, make remarkable valance displays, too.
Some of my customers sew antique handkerchiefs into Christening caps; others have turned a single pillowcase into an interesting embroidered Christening gown. Not to mention one enterprising customer who turned slightly damaged white pillowcases into hanging ghosts for Halloween!
People like to see their collections on display: hankys under glass-topped tables or in sets of shallow drawers; runners draped over doors or tossed over chairbacks.
---
window valances + window treatments
antimacassars
This pair of tasseled antimacassars were sewn onto wooden rings to form a simple window treatment.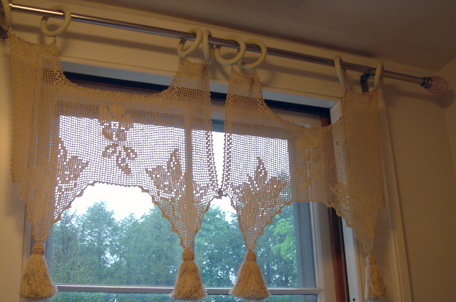 lace panel A white filet crocheted lace panel is transformed into a window valance when it is fastened, along with a length of antique fabric, by metal clips that are attached to rings. The clips come pre-attached. No sewing is necessary.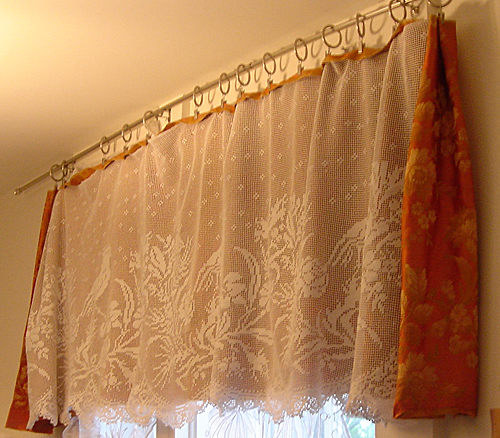 double layover pillow sham A white linen double layover pillow sham is hung at a window using lengths of ribbon which have been attached with safety pins. Straight pins or stapes would also work. Again, no sewing is necessary.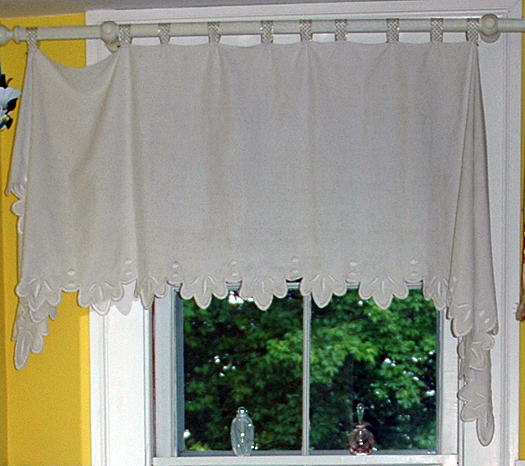 victorian valance A fringed Victorian damask valance is used in conjunction with a pressed tin pelmet and modern plaid silk to dress the window below.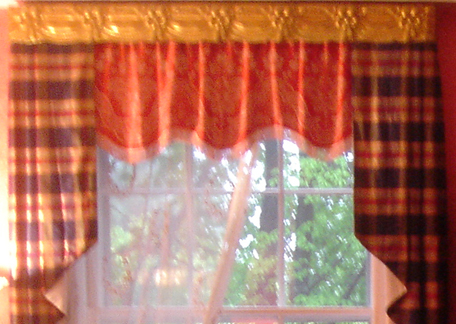 ---
pillows
fabulous tea towel pillow This pillow was made from an embroidered linen tea towel which was ingeniously folded, not cut, and the sides were sewn together.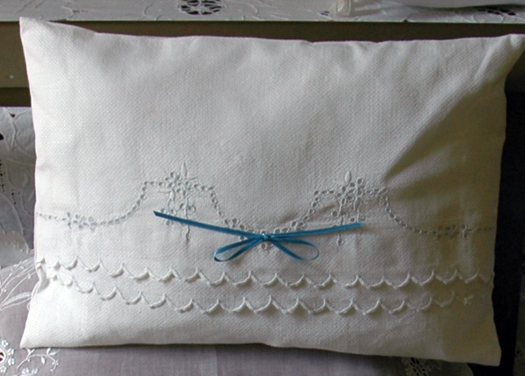 enchanting ruffled pillow This pillow was made from a damaged linen damask tablecloth that has been finished with a small ruffle and a vintage button. The pillow in the background was made from one very large damask dinner napkin.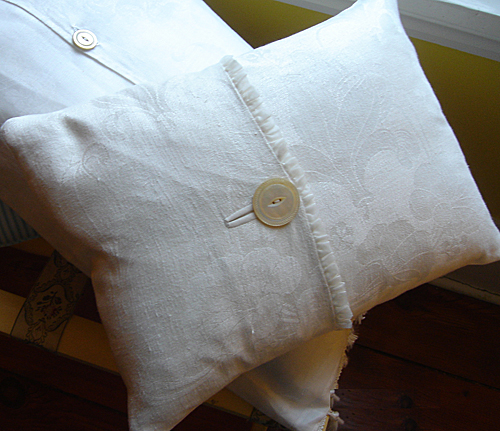 ultra exquisite pillows Pieces of damaged lace and embroidery were given new life as distinctive accent pillows when they were coupled with new magenta silk fabric, beads and cording.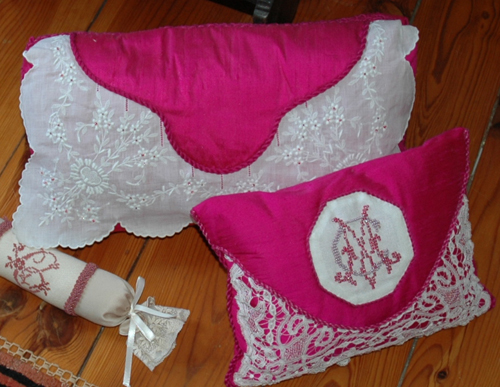 ---
bedcovers
tablecloth = bedspread This cutwork tablecloth adds crisp white charm to this pillow-enhanced bed.
.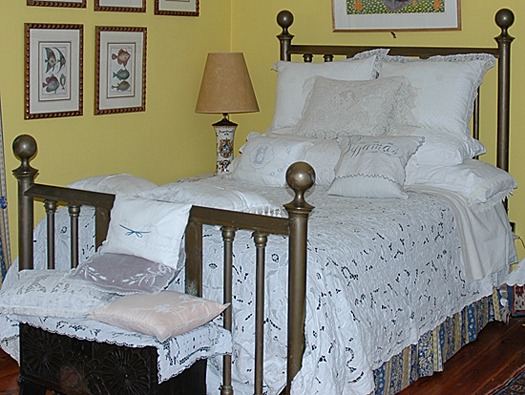 red and birds The bed below is dressed in frothy white cotton pieces embroidered with Turkey red thread. The bedcover was a tablecloth; the valance at the top had been a double-sized layover pillow sham.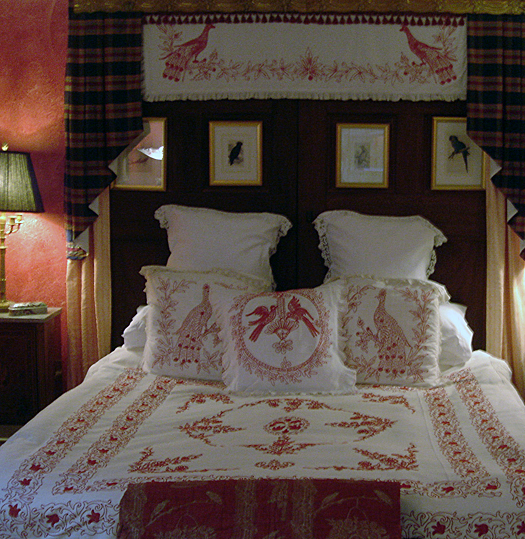 ---
drape = wall hanging
A embroidered drape finds new life as a backdrop to a fancy bed, a solution for using a single drape.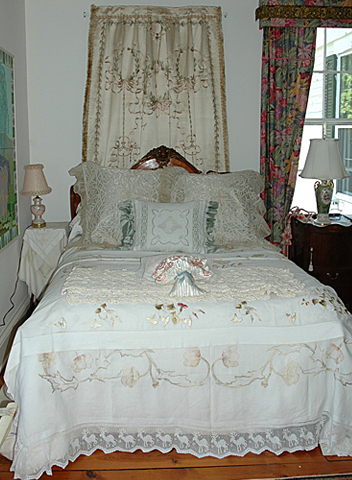 ---
book covers
glue gun patience The red guest book was covered with fabric and antique lace. The white one was an antique white lace and linen napkin embroidered with an exceptionally pretty monogram and flowers.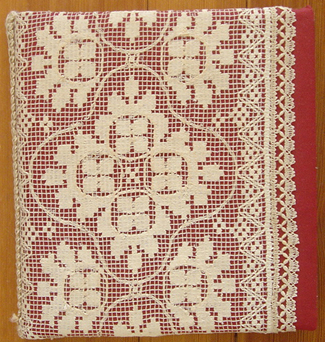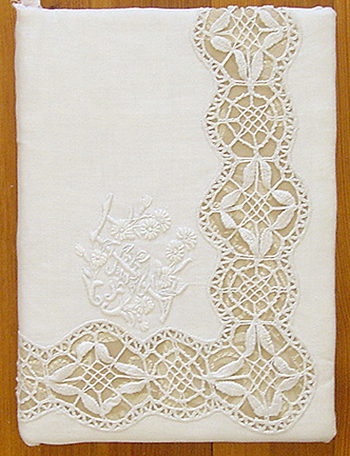 ---
chair decor
shawl An embroidered silk shawl is displayed on the back of an upholstered chair.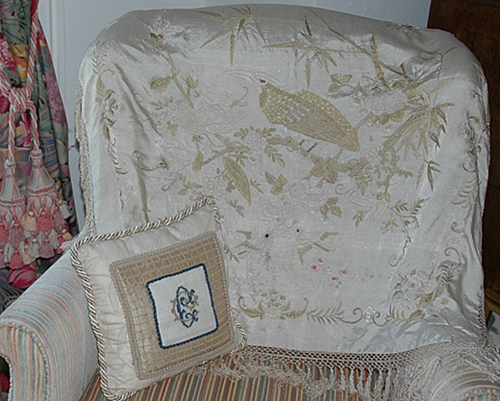 teacloth An Edwardian tablecover is tossed over the back of an upholstered chair.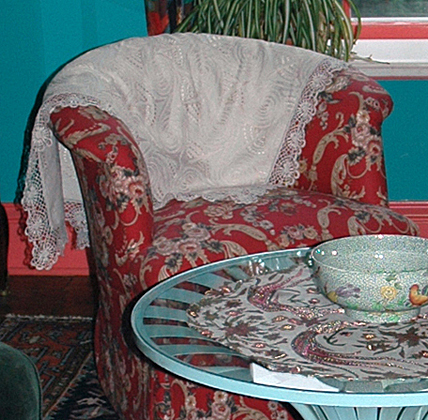 tablecloth A fringed Victorian Turkey red tablecover is tossed over the back of an upholstered chair with an embroidered tablecloth as an accent.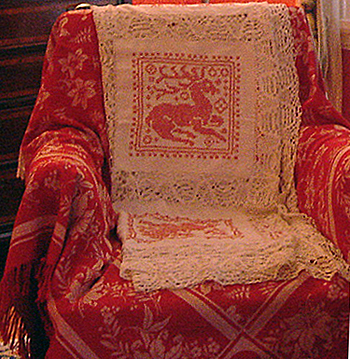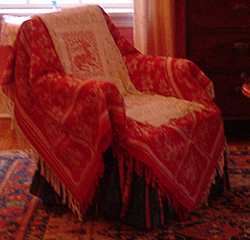 ---
specific theme display
strawberries Two embroidered strawberry "Society Work" doilies are layered underneath a strawberry-decorated porcelain pin dish next to a vintage pincushion that includes a tiny red strawberry.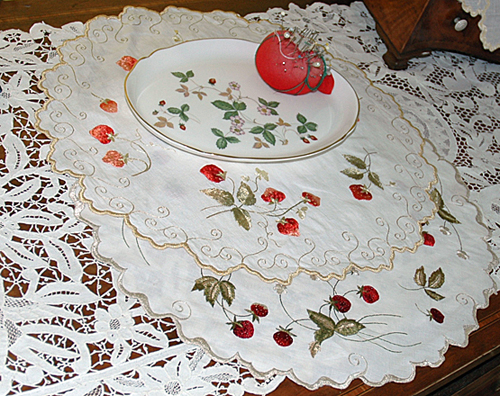 ---
color theme display
warm tones Color is the uniting theme of this display; the teacloth, guest towels and doily are embroidered in warm yellows oranges and coral.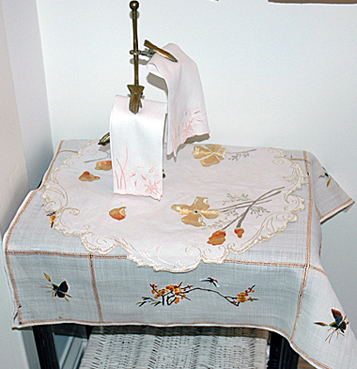 white and red The display below features a mix of Turkey red, white and blue items with different textures.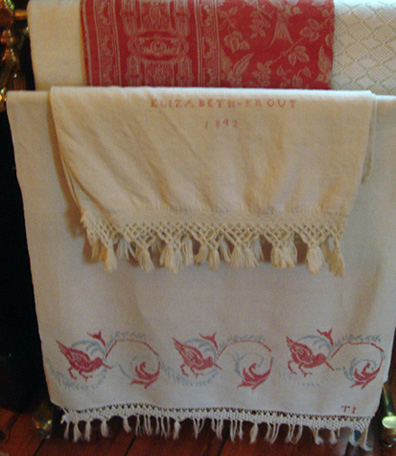 white and red A small fringed square is displayed on a half moon shaped table.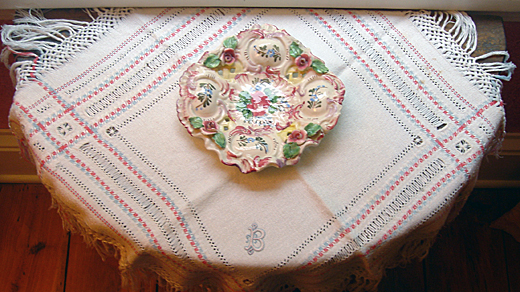 white and red A double layover sham serves as a dust cover and concealer in a little passage.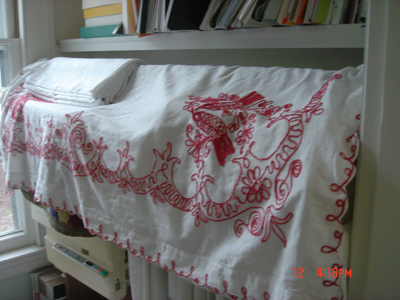 ---
layered displays
bird theme Birds are the uniting factor in this display of towels; each towel has a bird on it somewhere.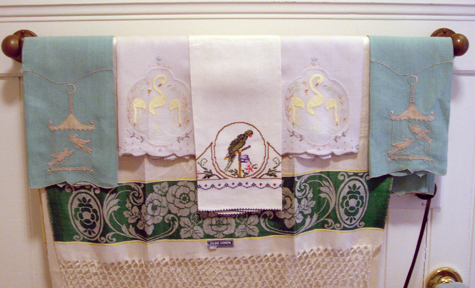 pastels Towels in soft colors form this layered display.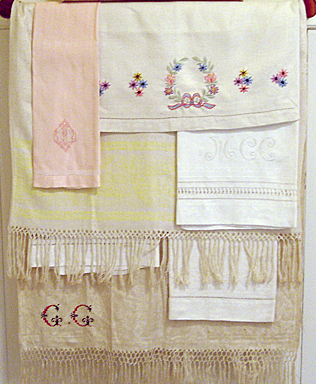 color theme Bold red borders of the fringed show towels set off the bright white towels below.